Your Newark, Middletown & Smyrna, DE Orthodontist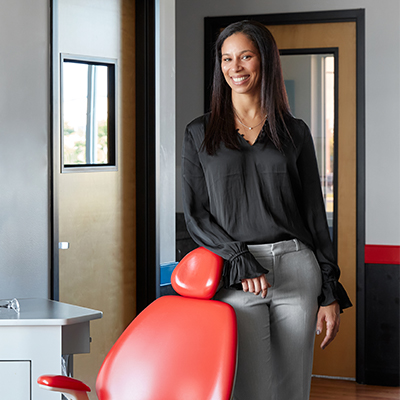 Dr. Brienne Flagg strives to follow the Delaware Orthodontics philosophy of creating healthy, beautiful smiles and more confident people.
A Note from Dr. Flagg
"I am truly fortunate to work in such a wonderful community. I enjoy getting to know my patients and their families, and it is always such an honor to know that I have made a difference in so many of my patients' lives. I couldn't ask for a better job or for better people sharing their smiles with me. I look forward to working with you."
Education & Distinctions
Her education in dentistry and orthodontics has provided her with a strong foundation of knowledge and experience. Before becoming an orthodontist, she received the following degrees:
Graduate of Christiana High School
University of Delaware: Bachelor's degree in Biological Sciences
Temple University Kornberg School of Dentistry: Doctorate in Dentistry and Master's degree in Oral Biology
Temple University Kornberg School of Dentistry: Residency in Orthodontics
Omicron Kappa Upsilon Dental Honor Society
Dr. Flagg is a board member of the Middle Atlantic Society of Orthodontists, and a member of the American Association of Orthodontist, Greater Philadelphia Society of Orthodontists, the American Dental Association, and the Temple Dental Board of Visitors.
Invisalign Diamond and Teen Provider amongst the top 1% of practices in the U.S.A.
Outside the Office
She resides in Delaware with her son Jared. She enjoys attending her son's sporting events, reading, and playing volleyball. She also enjoys spending time with her two nieces. Dr. Flagg has enjoyed every moment of her years with Delaware Orthodontics and finds it especially rewarding to be practicing in her hometown.